You have the picture in your head of what your life can be for a reason, but sometimes balancing it all feels impossible. Join Jamie Thurber, Expert Operations Manager and Productivity Queen turned Mindset, Business, and Lifestyle Coach bi-weekly for real-life conversations about how you can shift your perspective, change your habits, and start intentionally designing life on your terms.
Episodes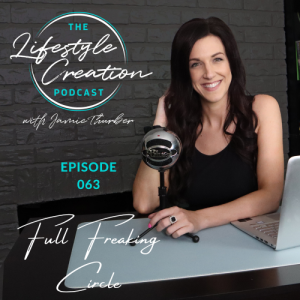 Tuesday Feb 14, 2023
Tuesday Feb 14, 2023
Share this episode on your social media and tag me! @jamie.thurber on Instagram and /jamiethurber on Facebook! 
Want to stay in touch? Get on my list here: https://bit.ly/3gBfjh4
Or join our free community where inspiration and resources are posted daily-
https://bit.ly/jamies-freecommunity
.
.
Please like, share, subscribe, and review us wherever you listen.
Want to learn more about me? Visit me on social media!
IG: @jamie.thurber  
FB: /jamiethurber.biz
The Lifestyle Creation podcast is not sponsored. All production and distribution is paid for by the host. If you would like to contribute to support the podcast, you may do so at @jamiethurber on Venmo or https://www.paypal.me/JamieThurber